LYC Ribbon Transfers - Shop
livepages::jquery();?>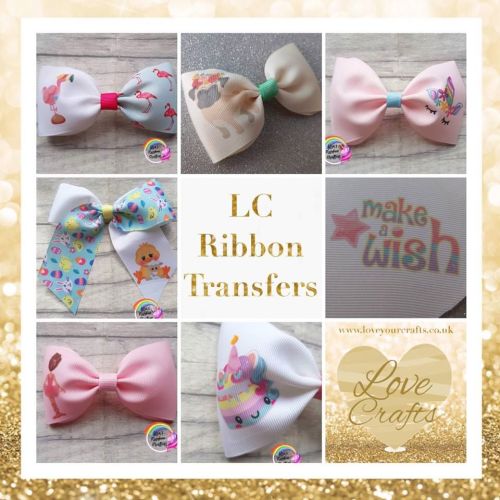 Brand New Item For Love Crafts!
LC Ribbon Transfers can be added to plain grosgrain ribbon
by iron or hair straightener.
Lighter coloured grosgrain is better, for the image to show more clearly.
You can add them wherever you like,
giving you so many ideas to create your own ribbon design.
Perfect on loops of tux bows, on tails of cheer bows, the options are endless!

The medium & large LC Transfers can be used on baby bibs, vests & tshirts. You will need to apply onto an item with 65% polyester 35% cotton mix or 100% polyester. Do not apply to 100% cotton as the image will wash out.

Instructions For Use:
It is important not to move the image whilst applying.
For a brighter image, heat the ribbon before applying.
For use with an iron:
(medium to high temperature, no steam), place the transfer
face down onto the ribbon.
Press down firmly onto the image for 30 seconds.
For use with a hair straightener:
make sure the heat plate covers all the image.
Place the transfer face down onto the ribbon.
Place the ribbon & image between the plates & hold for 30 seconds.
Products In This Category: